APPLICATION
Direct measurement of current in High Voltage System is Not possible because of insulation problem of measuring instruments. It is also not possible to use current flowing through the system directly for protection purpose due to its high insulation problem.
BASIC FUNCTIONS OF CURRENT TRANSFORMERS ARE :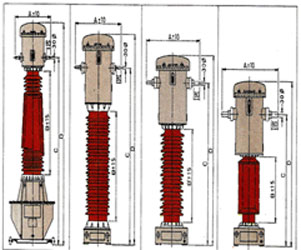 1. To reduce the line current to a value which is suitable for standard measuring
instruments relays etc.
2. To isolate the measuring instruments, meters, relays etc. from high voltage
side an installation.
3. To protect measuring instruments against short circuit currents.
4. To sense abnormalities in current and give current signals to protective relays
to isolate the defective system.
There are four main factors which determine the capability of current
transformer i.e.
* Insulation Level (Service Voltage)
* Rated primary current
* Short time withstand current
* Burden and Accuracy

THE CURRENT TRANSFORMERS MUST :

1. Withstand operational voltage and over voltage in the network
2. Withstand rated primary current in continuous operation without exceeding
maximum allowed temperature rise.
3. Be capable o sustain thermal and mechanical stresses developed due to
system falut current
4. Feed current to external circuit with specified accuracy at specified primary
currents
CONSTRUCTION :

Core & Secondary Winding, Primary Winding, Insulation, Procelain Insulators, Tanks & Bases, Testing, Packaging & Transportation, Maintenance

HOW TO SELECT THE C.T.
It is impotant to specify correct parameters of CT while ordering for optimum
design. Following are main factors for selecting current transformer.

1. SERVICE VOLTAGE : System voltage in which CT is to be installed e.g.
11kV, 22kV, 33kV ETC.
2. INSTALLATION : Whether OUTDOOR or INDOOR
3. ATMOSPHERIC CONDITIONS : Such as condition of Pollution, Altitude
Ambient Temperature etc.
4. INSULATION LEVEL : If insulation level other than associated with service
voltage is required, it should be specifically mentioned.
5. RATED PRIMARY CURRENT : Specify rated primary current / currents (if
required more than one value). Also indicate if different primary current
is required for different cores.
6. CONTINUOUS PRIMARY CURRENT : Max.primary current that can be withstood
continuously by current transformer e.g. 120% of primary current
7. RATED SECONDARY CURRENT : Whether 1 Amp. or 5 Amps.
8. SHORT TIME CURRENT & ITS DURATION : Specify fault current of the system
in which CT is to be installed along with its duration. it is most important to
specify realistic value of S.T.C. as at lower primary current, higher S.T.C.
value neceesitates bulky & costlier design. Also specify dynamic current if
other than 2.5 times S.T.C. is required.
9. NO.OF CORES THEIR BURDENS, ACCURACY : Basis of application, No.of cores,
their burdens and accuracy class should be specified. It is advisable to specify
minimum required Burden for metering core as unnecessary high burden will
necessitate bulky and costlier design. Specified accuracy is guaranteed for
100 % to 25% of rated burden only. Current transformer offers minimum error
if 75% to 60% burden is connected to secondary, Therefore, ideally rated
burden higher than 1.5 time actual burden should be specified. Also, it is
important to specify correct burden in context of instrument Security Factor
(I.S.F.). The I.S.F. indicates the over current as multiple of rated current at
which the metering core will saturate, thus limiting the secondary current
flowing through meter and protect it from damage. If actual burden connected
is half of the rated burden, the I.S.F. will increase two-fold of its rated value.
10. KNEE POINT VOLTAGE, SECONDARY RESISTANCE AND
EXCITATION CURRENT : For differential protection, R.E.F. Protection, Bus Bar
Protection, C.T. with accuracy class PS is required. The Knee Point Voltage,
Secondary resistance and excitation current should be for this core. It is
always better to specify Formula for Knee Point Voltage related to relay used
for the protection. This will help designer to optimise the design.